Murder victim Carole Waugh impersonator sentenced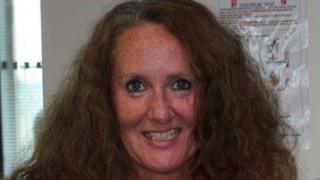 A woman who admitted impersonating a murdered former oil company worker has been given a community order.
Julie Witham, of Enfield, north London, pleaded guilty to conspiracy to defraud and plotting to hire a car using a credit card in Carole Waugh's name.
Miss Waugh, 50, was reported missing from her home in Marylebone in early 2012 and her body was found in a garage in south-west London last August.
Witham, 47, was ordered to do 140 hours unpaid work during the next 12 months.
The court heard Witham used a credit card in the murdered woman's name between April and August 2012, and also used a passport and driving licence in Miss Waugh's name.
Practised signature
At the time she did not know Miss Waugh was dead.
Witham was taken to a West End hotel where a man asked her to practise Miss Waugh's signature before she was asked to impersonate her, the court heard.
Duncan Atkinson, prosecuting, told the court the credit card in Miss Waugh's name had been applied for and issued in July, three months after she was killed.
"There is nothing to suggest she knew anything about the that death.
"Her role was one of being one of a number of women recruited to impersonate Carole Waugh," the prosecutor added.
Mitigating for Witham, Mark Gately said his unemployed client had committed the fraud because she was in rent arrears.
She was paid £100, lunch money and use of the car she had hired.
Witham was horrified to learn the passport and documents belonged to a murder victim and she had helped police in the case.
Two men have been charged with Miss Waugh's murder.