New east London Thames bridge to be reconsidered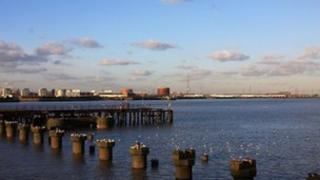 Londoners are to be consulted later this year about a possible new River Thames bridge in east London.
The consultation could prompt a U-turn by Mayor Boris Johnson, who cancelled plans for the Thames Gateway Bridge after he was elected in 2008.
A new vehicle ferry service at Gallions Reach, linking Greenwich to Newham, was planned instead.
But an initial public consultation revealed significantly-more people preferred a new bridge or tunnel.
Transport for London (TfL) has now decided to carry out further assessments of the cost, benefits and impact of crossings including bridges both at Gallions Reach and Woolwich, where the current ferry operates.
'Difficult choices'
The idea of a crossing at Gallions Reach - to be built by 2021 - was supported by 71% of respondents, compared to 52% who backed a ferry.
In the event that a ferry was tried first but failed to address transport problems in the area, 72% of people said they would want a bridge or tunnel by 2031.
Under current proposals, the ferry would be moved upstream from Woolwich. However, 22% of people are opposed to a new ferry, compared to 16% who objected to a fixed-crossing by 2021.
Darren Johnson, Green Party member of the London Assembly, said: "These responses leave the mayor with some difficult choices.
"TfL has spent over £43m on river crossing plans and consultations since 2000 and we have seen no end result."
Mr Johnson added the mayor should "throw his weight behind sustainable forms of transport" rather than build new road links.
The Thames Gateway Bridge, which was intended to open this year at a cost of £500m, was backed by previous mayor Ken Livingstone, and the Labour government.
But a planning inspector rejected the proposal in 2007 after an inquiry received hundreds of objections from residents and environmentalists.
The following year Mr Johnson cancelled the project, in view of local opposition, on environmental grounds and because he said there was insufficient funding.
Chancellor George Osborne subsequently provided financial help to explore options for river crossings and generate infrastructure projects to boost regeneration in east London.
'Introduce tolls'
Newham and Greenwich councils support plans for a bridge, while Bexley council is opposed.
A final statutory consultation on a new road tunnel linking Silvertown to the Greenwich Peninsula - and whether to introduce tolls - will also go ahead next year after 77% of respondents backed the idea.
According to TfL, the tunnel would draw traffic away from the Gallions Reach crossing, thus making it more palatable than the impact foreseen for the Thames Gateway Bridge.
Michele Dix, TfL's managing director of planning, said: "With London's population potentially reaching 10 million by 2031, we recognise the importance that will be placed on transporting goods and services throughout east and south east London.
"Apart from the opening of the QEII Bridge at Dartford there has been no increase in the capacity of the highway network across the river in east London for nearly 50 years."