London 2012: Olympic Park venue future secured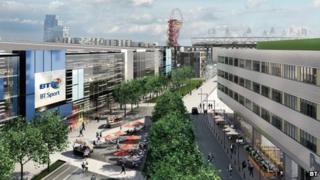 More than 4,500 jobs are to be created as the final venue to be permanently based in the Queen Elizabeth Olympic Park has had its future secured.
The London Legacy Development Corporation (LLDC) has announced iCITY will manage the Press and Broadcast Centre.
BT Sport, Loughborough University, data centre provider Infinity and Hackney Community College will be tenants.
The deal will see a further 2,000 jobs created in the local area by 2019.
As part of its agreement with LLDC, iCITY has made a commitment to work with its tenants to provide employment and training opportunities for residents living nearby, as well as ensuring local companies benefit from supplier opportunities.
The digital hub will see BT Sport broadcast 38 Barclays Premier League live games a season for three years from August 2013.
It will also show 69 live rugby union games a season from the Aviva Premiership.
Loughborough University will offer postgraduate education while Hackney Community College will establish its new digital apprenticeship programme at iCITY.
Tech Hub will develop start-up businesses and Infinity, a provider of data centre services, will be based there.
LLDC said the deal meant London was further ahead than any other host city in history in delivering a lasting physical and social legacy from the Games.
It said taxpayers' money will be protected by the terms of the 200-year lease. It will take a share of profits from any future developments, rental share and estate charges.
'No white elephants'
Boris Johnson, Mayor of London, said: "It's absolutely fantastic news that the final piece of the Olympic venues jigsaw puzzle has now been firmly put in place.
"With the future of eight out of eight permanent venues secure, London has well and truly delivered on what is a hugely important part of the Olympic legacy story."
Dennis Hone, chief executive of LLDC, said: "We said from the very beginning there would be no white elephants on the Park - and we've kept our promise.
"Now, by securing high quality tenants in the tech and education sectors, we will be providing thousands of jobs - and we remain firmly on track to deliver a meaningful physical and social legacy for Londoners."
Gavin Poole, iCITY chief executive, said: "These buildings provide an incredible opportunity to deliver one of the world's leading digital and technology clusters and support the ongoing regeneration of east London."