Funds misuse school governors 'must act now'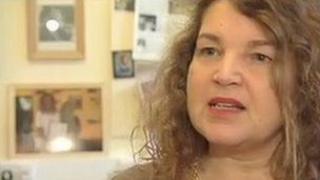 Governors at a school accused of inappropriate use of public money have been urged to "take action" by Westminster Council.
A Department for Education report criticised Quintin Kynaston Community Academy head teacher Jo Shuter over use of school funds.
Ms Shuter has been reinstated following a suspension, but is yet to return to the school.
The BBC understands negotiations over her future took place on Saturday.
The Department for Education has said decisions about the position of the head teacher are the responsibility of the school governing body.
The head teacher of the St John's Wood academy is yet to comment.
On Friday, BBC London revealed the report downgraded the school's self-assessment of its use of public funds from "good" to "inadequate".
The investigation, which looked at spending between January 2011 and August 2012, detailed numerous concerns, including:
Ms Shuter not declaring any business interests despite having close links to a number of suppliers used by the academy.
"Widespread" personal use of academy taxi accounts with an estimated £2,663 of personal travel costs identified.
At least two cases of expenses being claimed more than once from different organisations, which "could amount to fraud".
A number of issues relating to the employment of family members.
Examples of personal journeys for which taxis were claimed included trips to The Ivy and The Wolsey restaurants.
Andrew Christie, director of children's services for Westminster Council, said: "We are extremely concerned by the financial weaknesses found at Quintin Kynaston.
"We would urge the Education Funding Agency and the governing body to take action as quickly as possible for the sake of the school, its staff and pupils."
Exclusive hotels
Because the school is an academy the council does not have direct powers over it.
The investigation also revealed how senior staff members held off-site meetings at exclusive hotels.
An overnight meeting held in January 2012 at the Grove Hotel, in Chandlers Cross, cost £8,269.
Another meeting, at the Landmark Hotel, where the cost of rooms was up to £323 a night, set the school back £4,410.
Almost £7,000 was spent on Ms Shuter's 50th birthday party, held at the academy, and not repaid by her for over a year.
In another incident which caused the report authors concern, the academy bought chairs to the value of £1,579, which were delivered to Ms Shuter's home.
She then brought in different chairs to the academy, ones she had previously purchased and which she claimed were more expensive.
'Life and soul'
Evidence to support the "more expensive" claim was apparently not provided by Ms Shuter, who was named Head Teacher of the Year at the 2007 Teaching Awards.
However Ms Shuter received backing on a Facebook page calling for her reinstatement.
After details of the report were made public, one supporter described her as "a woman who has given her life and soul to an educational institution".
The post went on: "We would like to point out that whilst running Quintin Kynaston, Jo Shuter single handedly raised standards at Pimlico Academy and brought it out of special measures.
"Measure a person by their achievements."
Police are investigating.