Downing Street exceeds estimate at signs auction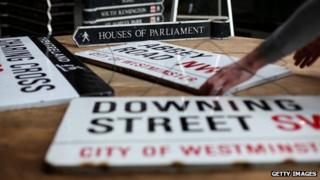 An enamelled Downing Street sign has been sold for £7,800 at auction, fetching over £6000 more than expected.
It was part of a collection of distinctive London street signs auctioned, including one for Abbey Road made famous by The Beatles.
The sell-off has been prompted by Westminster City Council and Transport for London upgrading 1990s signposting.
It has been described as an "absolute one-off".
Theatreland signs
The Downing Street sign was bought by London-based advertising executive Trevor Beattie.
The Abbey Road sign was bought for £4,350 by north London-based property investor John Antoniou as a present for his son, a musician and producer.
Estimates for the 362 signs available ranged from £20 to more than £1,000.
The sale took place at Summers Places Auctions in Billingshurst, West Sussex.
More than 300 black finger posts and eight enamelled Theatreland street signs are being offered in a sealed bid auction which ends on Wednesday.