Dave Courtney stepson murder: Two men jailed for killing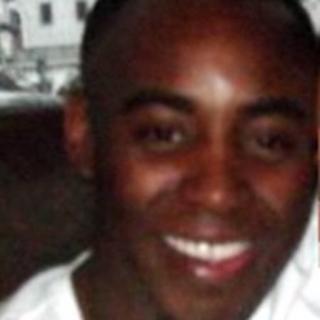 Two men have been jailed for life for the murder of the stepson of gangland celebrity and author Dave Courtney.
Drug dealer Genson Courtney, 23, was shot through the left eye in Greenwich, south-east London, in July 2011.
His uncle David Pinto, 33, and Robert Bleach, 46, both of Greenwich, south-east London, were convicted of murder at the Old Bailey last week.
They were both jailed for minimum terms of 31 years. The judge said the victim was "effectively executed".
The killers appeared via video link for the sentencing, because of fears of disturbances.
'Eliminate the threat'
Sentencing the pair Judge Wendy Joseph said: "The gun was put to his head and he was effectively executed."
The victim had made threats to Pinto and demanded £1,100 he claimed to be owed.
Days after the incident he was shot as he was getting into his car outside his girlfriend's flat, the trial heard.
Jonathan Rees QC, prosecuting, said: "The bullet travelled through the eye socket into the brain, lodging at the rear of the skull.
"The shooting had all the hallmarks of a cold-blooded execution.
"The motive behind the killing was that David Pinto was concerned that Genson Courtney was after him and sought to eliminate the threat that he posed," the barrister said.
Days before his death the victim had got into an argument with his stepfather Dave Courtney about mortgage payments on the family home in Plumstead and had punched him.
But the dispute was resolved a couple of days later, the court heard.
Dave Courtney has made a living out of making films and writing books about underworld connections, mainly in the 1960s and 1970s.
He also produced and starred in his own film, which featured in the Cannes film festival in 2001.
Following the sentencing, Det Ch Insp Kenny McDonald said: "David Pinto and Robert Bleach decided to end an ongoing feud with Genson Courtney by using calculated, deadly violence.
"They plotted the attack, surveying the address they knew Genson Courtney would be staying at, and shot their victim in cold blood as he approached his car in a residential street."