Fatal flat fire in Deptford treated as murder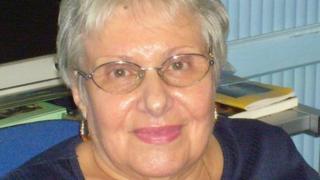 The death of an elderly woman in a flat fire is being treated as murder.
Giuseppina Fazzani, 82, died in the blaze on Deptford High Street in Deptford, south-east London, in the early hours of Wednesday.
Police said there was evidence an accelerant was used to start the fire in two adjoining properties and described the arson as a "vile attack".
A 55-year-old woman was rescued from the fire and residents in neighbouring flats had to leave their homes.
Heroic work
Det Ch Insp Cliff Lyons said the blaze was started in a Vietnamese restaurant and a former cafe that had been turned into residential accommodation.
He said Ms Fazzani was not connected to either of them.
Appealing for information DCI Lyons said: "As a result of this vile attack an elderly lady has died and a further fatality was only prevented by the heroic work of the London Fire Brigade.
"This attack has left the local community shell-shocked and a family devastated at the loss of their loved one," he added.