Giuseppina Fazzani murder: CCTV of car issued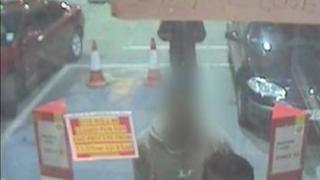 Detectives investigating the murder of an elderly woman who died in a flat fire have issued CCTV of a car used by those who started the blaze.
Giuseppina Fazzani, 82, died in the fire in Deptford, south-east London, in the early hours of 29 May.
Police said there was evidence an accelerant was used to start the fire in two adjoining properties.
Officers said the the red Peugeot 406 was used in the attack and they needed to trace it.
Three men and two women have been arrested in connection with the attack.
'Need justice'
Ms Fazzani's niece, who does not want to be named, said: "She has been a great loss and it's a real shock.
"She would have been 83 tomorrow. We just want to know why this happened."
She added: "She was a lovely lady.
"She was someone people went to when they need help or advice."
The car was videoed at a petrol station on the day of the fatal fire and its registration number is KB51 GKC.
The fire was started at two adjacent properties to Ms Fazzani's block of flats. One was a Vietnamese restaurant, the other a former cafe that has been converted into residential accommodation.
Det Ch Insp Cliff Lyons said: "I am appealing to anyone who has seen this car, or who knows where this car is, to come forward and speak to my team.
"Our evidence suggests that whoever was in this car was most likely involved in the events which led to the death of an innocent 82-year-old woman.
"Giuseppina Fazzani's family are devastated by what has happened - they need justice."