Protest march against London fire cuts held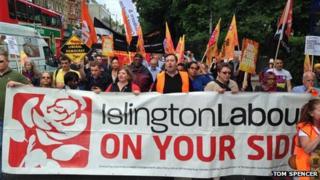 Residents have marched through north London to protest against the closure of Clerkenwell fire station.
Organisers say up to 500 people took part in the march which started at Highbury Fields and ended at the fire station on Saturday.
Labour MP Emily Thornberry said the planned closure would put local people at risk.
A spokesman for the London mayor said the proposals would "not reduce the capital's fire cover".
Job losses
The plans, which were announced in January by London Fire Commissioner Ron Dobson, are part of plans to save £45m over the next two years.
Twelve stations are earmarked for closure with a loss of 520 jobs.
Ms Thornberry, who was at the march, said: "Clerkenwell fire station has been serving Islington for more than 100 years and it is the most densely populated area in the country... we want to be properly protected."
The Labour MP for Islington South and Finsbury argued that the extra time it would take fire engines to respond to incidents could make a "massive difference".
She called on the mayor of London not to put profit before safety.
"The mayor is making the decision on the basis of what the fire stations are worth - Clerkenwell station would make a great block of flats", she said.
"I would not be against a proper review of the fire services and making decisions based on that but he isn't doing that."
Previously a spokesman for London Mayor Boris Johnson said: "These proposals may mean a slightly smaller estate, but they also include bigger, more efficient and well-equipped modern stations.
"Whilst it's right that tough decisions have to be made in times of economic uncertainty, the mayor is resolute that any agreed proposals will not reduce the capital's fire cover and target response times will be protected."