Is HS2 value for money compared to other London transport schemes?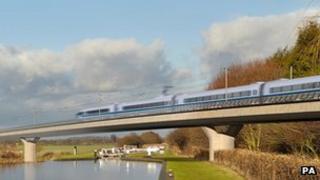 Today Camden Council is in the High Court to try and again stop the High Speed Rail link (HS2).
In Drummond Street - next to Euston station in north London - the restaurants there have learnt the line is going to be extremely close.
The road will be cut in two for the development and a huge metal wall will be erected across the street.
You won't be able to access Euston directly from Drummond Street and businesses fear they will be devastated.
Hundreds of lorries
Hundreds of lorries will also use the road as access. So far they have been offered no compensation.
While in the suburbs and the shires there has been some mitigation - it doesn't look like there will be much in Camden.
What's also emerged is other projects in London are probably better for the economy.
I asked Transport for London for the Benefit Cost Ratios (BCR) for transport projects in London.
Big economic benefit
The government says the BCR for HS2 is 1.4 : 1 for the scheme to Birmingham.
So, if the government invests £1 in the scheme, there will be a "benefit" of £1.40.
The BCR for the full scheme to Manchester and Leeds is 1.9 : 1.
(If you include the "wider economic benefits", it rises to 2.5 : 1.)
The figures for London's projects are more impressive (the figures don't include the wider economic benefits).
Crossrail 3.1 : 1
Victoria Line upgrade 5.2 : 1
Sub surface upgrade 8.1 : 1
Future Tube upgrades 3.3 : 1
Victoria Station congestion relief 5.2 : 1
A406 Bounds Green improvements 4.5 : 1
A406 Henly's Corner improvements 5.7 : 1
Pedestrian Countdown 9.0 : 1
Better junction cycle safety improvement 2.1 : 1
SCOOT (traffic lights improvements) - 1000 sites 12.3 : 1
We're told the BCR is not the only way to weigh up the benefits of a project and many outside London think the capital has had too good a deal for too long and the Treasury needs to rebalance infrastructure investment.
However, Transport for London will use these figures to show how money invested in London transport projects has big economic benefits and as such shouldn't be cut in Chancellor George Osborne's Spending Review on 26 June.