Stephen Lawrence killers received £425,000 in legal aid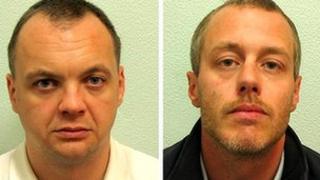 The two men convicted of the racist murder of Stephen Lawrence were given more than £425,000 in legal aid.
Gary Dobson, 37, and David Norris, 36, were both jailed for life in January last year for the killing in Eltham, south-east London, in April 1993.
The Legal Aid Agency said Dobson was given £199,109 in the run-up and during the six-week trial and a further £4,200 for appeal costs.
Norris received £222,346 to defend himself against the charge.
He has twice tried to have his conviction overturned and both times his application has been dismissed by the Court of Appeal.
Means test
The figures, obtained by the Daily Mail in a Freedom of Information request, show the costs for his appeals have yet to be finalised.
Dobson dropped his appeal against his conviction in March.
A spokesman for the Legal Aid Agency said: "Anyone on trial for a serious criminal offence can apply for legal aid so a lawyer can represent them in court.
"Funding is subject to a means test which could require the defendant to pay towards their legal costs."
Still investigating
Norris is serving a minimum of 14 years and three months, and Dobson at least 15 years and two months.
The men were the first people convicted over the attack on Mr Lawrence by a group of white youths near a bus stop.
The breakthrough in the investigation followed the introduction of a cold case team of forensic scientists.
Police are still investigating the murder in an attempt to bring others to justice.
The Ministry of Justice is consulting on plans to save £220m from the criminal legal aid bill, which include removing the right for defendants to choose who represents them in court.
The proposal has sparked some concerns that the changes will deny justice to the poorest in society.