Muswell Hill Islamic centre fire group to use library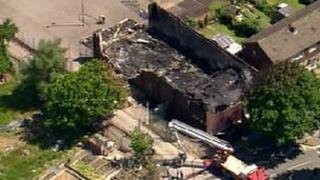 A Muslim group in north London will be temporarily housed in a library after their community centre was destroyed in a suspicious fire.
Barnet Council confirmed that members of the Bravanese Community Centre would use East Finchley Library from Monday.
The centre, also known as the Al-Rahma Islamic Centre, in Muswell Hill was gutted by fire on 5 June.
The Somali Bravanese community will use the library from 17:00 BST on weekdays, Saturday afternoons and on Sundays.
Abubakar Ali, chairman of the centre, said: "We're very grateful to Barnet Council for the temporary support of an administrative office and meeting rooms, and to local schools and communities who have stepped up to host our after school and weekend learning activities."
Councillor Robert Rams from the council added: "After last week's heinous attack we've received many offers of support from residents, businesses and other faith groups.
"I'm delighted at the way everyone has pulled together and that our offer of a temporary new home will secure the centre's future in the heart of the community."