Wimbledon's stolen pigeon-scaring hawk to return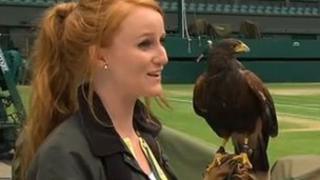 The handler of the pigeon-scaring hawk used at Wimbledon's tennis championships says she is going to sleep with one eye open after it was stolen last year.
Imogen Davies says she has been getting used to people quipping "You haven't lost him yet then?" in the run up to the tournament, which starts on Monday.
Rufus was stolen from a car in Dunstall Road, Wimbledon, south-west London.
The Harris hawk was handed in to the RSPCA three days later.
He was stolen during the night whilst sleeping in his travel case.
It was the first year he was kept in a car instead of being driven from Northamptonshire each day for his 05:30 BST start.
Ms Davies left the window of the car open to allow air to get in, and said that was how thieves broke in.
Sore leg
After a police appeal, the RSPCA received a call to say the hawk was in his case on Wimbledon Common.
Ms Davies said: "There's no way he could have been there the whole time because we searched the whole area. We think whoever took him got scared. I don't think they expected all the attention.
"They wouldn't have been able to get rid of him because it was such a well-known story.
"This year he's staying in his box with me in the house. I'll sleep with one eye open through the whole of the championships."
He had a sore leg when he was reunited with Ms Davies by the RSPCA Animal Hospital in Putney.
She said he was back at work shortly afterwards.
"The RSPCA had fed him so much that we had to get his weight back to normal," Ms Davies said.
"They said they fed him about 15 chicks. He usually has three or four a day."
Ms Davies added she will never live down the theft of Rufus.
"People keep saying 'You haven't lost him yet then?'," she added