Woman gave infant bleach in a bottle in McDonald's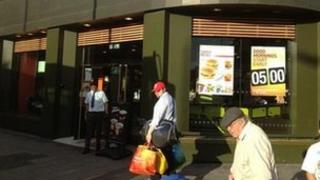 A woman did give an infant a bottle containing bleach at a McDonald's restaurant in south-east London, a jury has decided.
The 11-month-old boy drank some of the liquid and vomited after being handed the bottle, Woolwich Crown Court heard.
Judge Andrew Lees had earlier ruled Elaine Joyner, 53, of Deptford, was unfit to plead and a trial would decide whether she carried out the action.
The jury took 30 minutes to decide she did hand the bottle to the infant.
The trial took place in Joyner's absence.
'Mentally ill'
The boy was with his mother and grandmother at the restaurant on Eltham High Street on 13 September when Joyner, who was not known to the family, gave the bottle to the child.
He swallowed some of its contents before he vomited and had to be taken to hospital.
The jury was asked to decide whether Joyner carried out the act, not whether she was guilty or not guilty.
The judge had told the jury: "In this case the defendant has been found by me to be unfit to stand her trial.
"I have decided on the evidence of two specialist medical practitioners, one instructed by the defence, one by the prosecution, that she is mentally ill, such that she cannot understand the proceedings, cannot understand the evidence, and cannot give valid instructions to her legal team."
'Random person'
The jury had been told CCTV showed a woman carrying a baby's bottle, walking along the High Street in Eltham, and entering McDonald's, where she is seen to pass the bottle towards the boy.
The judge said there was no witness in the restaurant who had identified Joyner but police circulated an image, which was recognised by a constable.
The baby, which cannot be identified for legal reasons, has made a full recovery.
The boy's mother said in a statement to the court: "Some random person had given my baby a bottle, which he had drunk from and was vomiting.
"As far as I was concerned, my baby had been poisoned."
The hearing was adjourned until 8 July to determine how the defendant should be dealt with. The judge directed that Joyner should attend.