London NHS 'risks becoming financially unsustainable'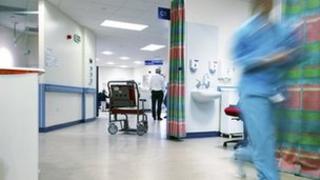 The NHS in London could be at risk of becoming financially "unsustainable" unless organisational changes are made, a health think tank has warned.
Four of the five most financially challenged NHS trusts - with a joint deficit of £120m - are in London.
The King's Fund said the abolishing of health authorities and primary care trusts in April had led to an "absence of leadership".
NHS England said it rejected "the bleak picture painted in this report".
The study, which looked at changes in the NHS over the last 18 months, said the government's reforms had created a larger number of health service organisations in the capital, which could lead to "incoherence and inconsistency".
The think tank said the abolishing of primary care trusts and health authorities, in favour of clinical commissioning groups, had led to the structure of the NHS in London becoming "much more complex".
It said a single body was urgently needed to oversee healthcare across the capital.
The report also said the urgency of the situation in London meant it required "a radically different approach to the rest of England".
'Not fit for purpose'
Chris Ham, chief executive of the the King's Fund, said: "Without change, London's health system is at risk of becoming financially unsustainable, and patient care could suffer.
"The stakes could not be higher, yet the structures now in place are not fit for purpose.
"Courage will be needed to implement a radically different approach capable of delivering the changes required."
The group suggested the NHS should base its system of commissioning services in the capital on a USA model for war veterans, where the responsibility for commissioning services would be held by a single strategic body with three "provider networks".
It also said rules on mergers and competition needed to be revised or suspended in London to cut down the time and money spent on reorganisation.
'Big challenges'
NHS England's London office said it was "very positive" about the impact changes made in April would have on healthcare.
A spokesman said: "The government has asked more GPs to have greater control of the NHS system, and in just three months since the new arrangements came into effect we are seeing really positive change, such as the formation of joint commissioning boards in London.
"There are some big challenges to ensure the NHS keeps modernising and fits around patient's needs, but we are confident clinicians are best placed to be in the driving seat."