Met Commissioner 'confident' over Lawrence smear claims probe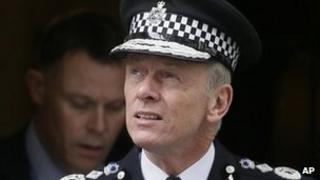 An inquiry that will include looking at claims of a police smear campaign against Stephen Lawrence's family will work, the Met's commissioner has said.
Sir Bernard Hogan-Howe appeared before London Assembly's Police and Crime Committee to discuss the probe into undercover operations at the Met.
Derbyshire's Chief Constable Mick Creedon will lead the inquiry, which will be supervised by police watchdog.
Sir Bernard said he would meet Doreen Lawrence and her lawyer on Friday.
The Met could only offer a police inquiry but the force would give its support to any public inquiry, he added.
'Prioritise' inquiry
Stephen was 18 when he was stabbed to death in a racist attack by a gang of white youths as he waited at a bus stop in south-east London in April 1993.
It took more than 18 years to bring two of his killers to justice. An inquiry following the murder led the Metropolitan Police to be accused of institutional racism and found failings in how the force had investigated the crime.
The current allegations emerged after former undercover officer Peter Francis told the Guardian and Channel 4's Dispatches programme that while working as part of the Met's Special Demonstration Squad, he was pressured to find "any intelligence that could have smeared the campaign".
Sir Bernard said the Met was "trying to build a lot of independence" into the inquiry, called Operation Herne, and said he had asked Mr Creedon to "prioritise" the Lawrence allegations as part of his inquiry.
"What they are looking at is 40 years of material. I have already asked the chief constable of Derbyshire to prioritise the particular allegations about the targeting of the Lawrence family," he said.
Sir Bernard was also asked about claims that meetings between Stephen's friend Duwayne Brooks, who was with the teenager the night he was murdered, and Mr Brooks' lawyers had been bugged by police.
The commissioner said an internal investigation had been launched into the allegations after Mr Brooks' lawyer wrote to the Met earlier this week.
He said: "In terms of how many times it happened we're not sure, because we can only get the original allegation and we've got a relatively brief letter making the allegation about one incident.
"It may be that Duwayne Brooks or his representatives might say we don't know how many times it happened, that's what we'd like you to find out. And that's what the investigation will look at," Sir Bernard said.
He told the London Assembly he was meeting Mr Creedon and Mark Ellison QC, who is conducting a separate review, to find out if more resources were needed for the investigation, which the Met would pay for.
'Hear their account'
Greater Manchester Police (GMP) said it had also been made aware that some officers were asked to gather information on people related to the public hearings of the Stephen Lawrence inquiry in Manchester in 1998
Assistant Chief Constable Dawn Copley said: "Concerns have been raised regarding a memo that was issued which is believed to have requested GMP officers to gather information on groups or individuals who were attending these hearings.
"We are taking these concerns very seriously and this matter will be fully investigated. A voluntary referral is being made to the Independent Police Complaints Commission and we are in contact with the Metropolitan Police Service."
However, the alleged incidents took place years ago and "things have changed a lot" since then, Sir Bernard stressed.
He said he had met a group of Met undercover officers last week, which he did on a regular basis when he was chief constable in Merseyside.
Sir Bernard said he would also like to meet the women who have accused undercover officers of deceiving them into relationships and even motherhood.
"They deserve the head of the organisation now to hear their account and to see if there's anything we can do to help more," he said.