Racist attack on toddler 'frightening ordeal', mother says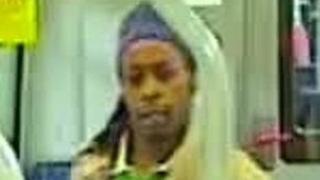 A woman who was targeted in a racially-motivated attack in east London while out with her two-year-old son has said it was a "frightening ordeal".
The boy, in a buggy, suffered a broken collarbone when his mother was pulled by the hair and dragged to the ground at Walthamstow Central on Sunday.
The 30-year-old black woman was targeted and racially abused for having a mixed-race child, police said.
Police have released more CCTV images of a black man they want to speak to.
'Unspeakable attack'
In a statement the victim, who wants to remain anonymous, said: "This was a really frightening ordeal for me and my son.
"I was absolutely terrified when I was dragged to the ground, and all I could think about was my son.
"We are now both at home recovering from the attack and I'd like to thank everyone for the support they have given me over the past five days.
"I'd plead to anyone who has information to speak to police and help find the man responsible for the attack."
The mother was shaken but uninjured in the attack.
Officers have carried out inquiries and viewed CCTV from the area.
Appealing for information, Det Con Gerry Hughes said: "This was an unspeakable attack on a mother and son, and we are determined to find the man responsible."