Community meets after Muswell Hill Islamic centre fire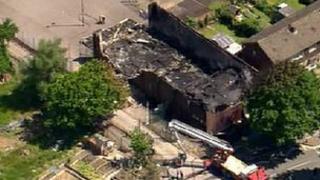 The Somali Bravanese community in north London has come together for the first time after a fire destroyed a community centre.
The Bravanese Community Centre, also known as the Al-Rahma Islamic Centre, in Muswell Hill was gutted by a suspicious fire on 5 June.
Hundreds gathered for the graduation of pupils of Arrahma School who had learned the Koran.
Community leader Abubakar Ali said it was an "emotional time" for everyone.
Since the fire the community centre has been at East Finchley Library. Barnet Council has pledged to rebuild the centre.
Sunday's gathering took place at North London Business Park in New Southgate.
Mr Ali, the chairman of the Bravanese Community Centre, said: "It was emotional for everyone and the first time since this event all the community came together.
"(After) what happened on 5 June no-one was even trying to see each other but today we have managed to meet all together."
They had considered cancelling the cultural gathering but later decided to celebrate the event as a show of solidarity, he added.