Abduction doctor Humma Dar's career at risk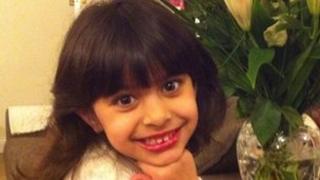 A doctor wanted for abducting her daughter could be struck off, after the General Medical Council announced it will review her case.
Humma Dar vanished with Aamina Khan, from south west London, in August 2011. They are thought to be in Pakistan.
The GMC confirmed her case will be analysed at a "fitness to practise" hearing later this month.
She could be erased from the medical register, if the Medical Practitioners Tribunal Service finds against her.
That would mean she can no longer work as a doctor.
Seven-year-old Aamina's father, Safraz Khan of Croydon, south London, took legal action after his daughter disappeared and the case has been examined in the High Court by a number of judges.
Last month, Deputy High Court Judge Clive Heaton said it was impossible not to have sympathy for Dr Khan, who was granted custody of the little girl after the marriage ended.
The judge warned Dr Dar the courts would not give up trying to find Aamina.
A spokeswoman for the GMC, which registers doctors, said Dr Dar's case was scheduled to be discussed at a hearing in Manchester starting on 15 July.