Goldfinger Elephant and Castle tower block is listed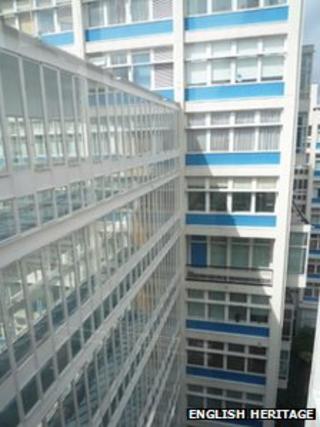 A London tower block complex called an "eye sore" by some has been listed Grade II by heritage minister Ed Vaizey for its special architectural and historic interest.
Designed by Ernö Goldfinger, Metro Central Heights in Elephant and Castle, south-east London, was completed in 1967.
It housed the Department of Health and Social Security until 1989.
But some people have questioned the decision calling the buildings "ugly".
'High-calibre architecture'
Mr Vaizey said the Hungarian designer who died in 1987 considered the complex, his largest design, "his most significant work".
He said: "Acclaimed when it was first built, it subsequently divided opinion but has now - 25 years after first being put forward for listing - clearly passed the test of time."
Simon Thurley, chief executive of English Heritage which recommended the listing, said it was "an excellent example of high calibre post-war architecture".
The design includes two internal foyers finished in polished marble and two coloured glazed screens to illuminate the lift lobbies.
But some people living and working in the area told BBC London 94.9 they thought the complex was "ugly", "old-fashioned" and an "eye sore".
Conor Clarke commented on Twitter: "Another absolutely disgraceful decision by the uneducated and tasteless."
When the Department of Health and Social Security left the complex there was speculation that it could be demolished.
Southwark Council gave permission for it to be converted to residential buildings in 1996.
Goldfinger's Trellick Tower, a council housing block in North Kensington, west London, was made a Grade II* listed building in 1998.
The last Goldfinger design in London to be listed was five terraces of Cheltenham Estate near Trellick Tower. They were given Grade II listed status in November last year.