Two London fire stations win reprieve from closure plan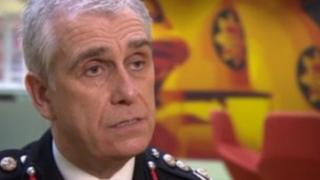 Two of the 12 London fire stations which were facing closure are to remain open.
London's fire commissioner Ron Dobson said he has modified his cuts programme in the Fifth London Safety Plan to meet the concerns of the public.
Clapham station in south London and New Cross in south-east London will stay open but with one fire engine each.
But the reprieve comes at the cost of 550 firefighter jobs - 30 more than originally planned.
The London Fire and Emergency Planning Authority (LFEPA) will meet next week to vote on the plans.
Mr Dobson said he wanted the changes to come into effect as soon as possible after the meeting to limit disruption to the service and uncertainty for staff members.
Under the plans, Chelsea Fire Station will retain two fire engines and East Greenwich will receive a second fire engine.
London's 'protection'
Belsize, Bow, Clerkenwell, Downham, Kingsland, Knightsbridge, Silvertown, Southwark, Westminster and Woolwich will still close.
The draft plan outlined closing 12 stations, and cutting 18 fire engines wit the loss of 520 jobs to save £29m over two years.
The new proposal would leave London with 155 fire engines at 102 stations.
Mr Dobson's report notes that when London's political leaders attended meetings they were on the whole "vocally opposed".
He said: "Many people did not value the fact that demand had reduced and this has had the effect of creating headroom for a reduction in the breadth of the service.
"On several occasions, people remarked that they would be happy to retain the same number of stations and firelighters as now, even if they never attended an incident."
Labour's fire service spokesperson on the London Assembly, Navin Shah, said he was pleased the mayor had scrapped plans to close two stations but that he had "let down" people concerned about the "protection of the whole of London".
The Liberal Democrat's Stephen Knight said: "These minor concessions are obviously welcome, but the overall picture is that nearly one in 10 of London's fire stations are still set to be closed within months."