Council to remove 50 traffic cameras amid rising fines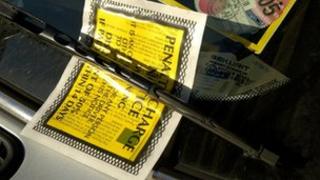 Westminster Council plans to remove 50 of its 179 traffic enforcement cameras despite issuing 458,388 tickets generating £23 million last year.
The council said it wanted a more "common sense" approach to parking in the area by employing traffic marshals and a new parking locator app.
A spokesman said it cost a lot to issue fines and more money would be made if people parked correctly.
But motorists argue fines do generate a lot of money for councils.
The Institute of Advanced Motorists (IAM) said London councils, including Westminster were making increasingly huge profits from parking charges.
IAM said figures showed Westminster Council made £38m in 2011/12, up 8.7% from the 2010/11 figure.
Despite the high numbers the council said it actually issued 40,000 fewer tickets last year.
A council spokesman said they wanted to have a more "human approach" to parking, using traffic marshals who would be there to warn people they are illegally parked and let them know where there are legal parking spaces through a new app.
Parking app
"The pilot scheme uses bay sensors so people can download an app which tells them where there are spaces. If motorists don't have the app, traffic marshals will tell them," the council said.
The app which covers five streets currently gets 300 hits a day. From November the scheme will cover the entire West End, according to the council.
But parking campaigner Graeme Jones told BBC London the new parking scheme was not in the public's interest but in Westminster Council's interest.
"I would have to ask the council the real reason as to why they're removing these cameras.
"As for this new app this is instead of a camera being up a pole we now have a sensor in the road that can tell traffic wardens when people have immediately gone over their time."