West End's ex-Limelight Club transforms into arts venue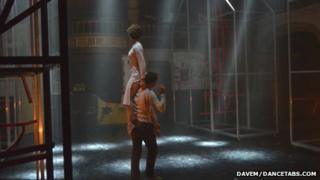 You are walking along central London's Shaftesbury Avenue.
Among the bright lights of the West End theatres and the brash noise of the traffic-jammed double-decker buses, you would be forgiven for not noticing the modest entrance to a former chapel.
Wedged unassumingly between a bank and redbrick office block, many tourists pass by unaware of its multifarious 100-year history, which has seen it go through various incarnations, from a residence of reverence to a destination for decadence.
In the 1980s, the former Welsh Presbyterian church, built in 1888 by James Cubitt, took a detour from the divine, to become the hedonistic Limelight nightclub, hosting the likes of Boy George and Duran Duran.
The Grade II-listed building later became an Australian-themed bar, then a squat, but in 2011, the venue was bought by an anonymous philanthropist - and is set to become one of the West End's most unusual performance art venues.
But for the next week, the building hosts a site-immersive performance that offers a unique opportunity to see the venue in its stripped-back form before it is redeveloped.
Non-linear
The New Movement Collective has produced Nest - a performance inspired by Homer's epic poem The Odyssey - which allows audiences explore the winding shadowed stairways and hidden caverns of the building, guided by dance, live music, animation and interactive light technology.
Malgorzata Dzierzon, who produced and performs in the show, said: "As soon as we looked around the building, we realised every room had potential.
"We took Homer's Odyssey but scattered its themes around the building.
"We designed the performance so the entire audience has a chance to see every space," she added.
Dzierzon says she wanted to create an experience akin to the popular 80s Choose Your Own Adventure books, where readers made choices to determine the plot's outcome.
The performance incorporates The Odyssey's themes including vanity, hospitality and the elements - but tells the tale in a non-linear way.
You are free to roam around building's three floors and admire the elegance of its architecture, but also wander along its dark, eerie corridors.
Video projection
The audience explores its chambers and basement crypt, and wonders what hidden secrets - shocking or serene - will confront them around each corner.
The dancers' dexterous bodies guide smoothly over the venue's walls and floors and the entire experience is palpable, with a gossamer of separation between cast and audience.
You may suddenly find yourself face to face with a dancer feeling their breath on your neck as they look you in the eye.
You can interact with the performers as much as you want, and at one point even feed them if you desire.
The use of lighting is at times menacing - with strobes and lasers harking back to the heady days of the Limelight - but on other occasions it is serene - using smoke and reflections to create ambience.
Robin McNicholas, from Marshmallow Laser Feast, which designed the show's lighting, said: "The objective was to use lasers and video projection in a subtle way without detracting from the story.
"Sometimes it is bold, but often it is about what you choose not to include that achieves the effect desired."
The soundtrack, ranging from a classical score to dark electronic beats, adds to the atmosphere, as does the dirt, dampness, loose electric cabling and musty smells of the venue in is current state.
Performer Jonathan Goddard explained how the show is a unique opportunity to see the building in its current condition, stripped back, before it is refurbished.
"We've been working on a building site," he said. "It's magical that we have this small window of opportunity to see the space in this state."
So what lies ahead for the former chapel?
Stone Nest, which hopes to open a permanent performance space in the building, is expecting a decision on its planning application from Westminster City Council next month.
"Stone Nest will not be a conventional theatre space, nor do we intend it to be," said its producer Hannah Myers.
"Our mission to promote experimental, unexpected and daring artistic practice and to bring it to a wide audience."
It sounds like Nest may be a taster of things to come for the venue.
Nest is running at Stone Nest until 24 July.