Mayor missed long-term London Olympic jobs targets, says report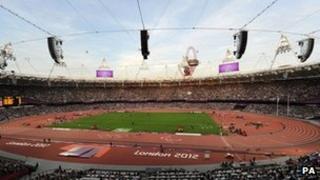 London Mayor Boris Johnson has failed to deliver long-term Olympic jobs for the capital, a new report suggests.
A year on, the government and the mayor say London 2012 has generated nearly £10bn for the economy and led to 70,000 jobs for Londoners.
But the study, by consultants SQW, reveals failings in flagship projects set up to generate long-term jobs. One scheme was terminated early.
A spokeswoman for the mayor insisted his results were reasonable.
The study found there was "exemplary" practice - led by games organiser Locog - to ensure temporary jobs during the games went to local people.
'Hard-to-reach Londoners'
The mayor also promised to spend £20m on training, advice and support for long-term unemployed people to ensure a lasting Olympic jobs legacy for the capital.
But according to the independent consultants' report, less than £8m has been spent so far.
The mayor pledged to get nearly 6,500 long-term unemployed Londoners back into work, concentrating on those who had been economically inactive for at least two years.
So far fewer than 3,000 have got jobs - and only a fraction have held on to those jobs for six months or a year.
City Hall shelved one initiative, the 2012 Employment Legacy Project, at the beginning of the year.
It was originally intended to get 1,400 "hard-to-reach" Londoners back into work.
But only 86 people got jobs. Just 12 of them were in work six months later, and none were in post after a year.
The report says one of the key aims of the project, run by private company Seetec, was meant to help people from disadvantaged groups access jobs.
'Intensive support'
But not one black or ethnic minority, disabled or female employee held on to their job for more than six months.
The report said: "Despite the scale and experience of Seetec, it did not have the in-depth knowledge of working with the economically inactive, the key target group for the project."
The report criticises the payment by results approach, arguing it could prevent the kind of intensive support needed for people who have not worked for long periods.
It questions whether the mayor's approach offers "the right financial motivation to risk-averse providers to deliver both the volume and quality of post-employment support, when there is no guarantee that this will be recouped in the current economic climate."
A large percentage of the contractual payment is only forthcoming if people remain in their jobs for six or 12 months.
Neale Coleman, the mayor's Olympic adviser, said: "These are very difficult programmes to carry out.
"Clearly, some element of payment by results is a good discipline, but one of the things we have learned is that we shouldn't have brought this model in, nor brought it in so sharply.
"We can do this better in future. But in terms of the employment and skills generated during the games themselves, we deserve credit."
A second mayoral jobs initiative - the Host Borough project - was set up to target long-term unemployed in the six Olympic boroughs.
It has fared better than the London-wide project, but the report says it has also under-performed.
Mr Johnson promised it would get 5,000 people into work.
'Need to improve'
So far 2,026 have been helped, with a little over half of those still in their jobs six months later and 735 in employment after a year.
The report says the projects "need to improve their performance, especially in terms of translating job entry starts into sustained employment outcomes".
It found the commitment of the government and mayor to get 70,000 jobless people into work as a result of the Olympics had been met.
It says 20,000 Londoners - previously without work - found employment directly related to or created by the Olympics.
But the analysis accepted job creation figures included jobs only indirectly related to the Olympics - such as those created at Stratford's Westfield centre - with some likely to have existed irrespective of the games.