Heygate compulsory flat purchase order is upheld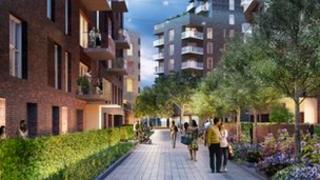 A decision to compulsorily purchase three flats on the Heygate Estate so a regeneration project can take place has been upheld.
Southwark Council wants to redevelop the estate in Elephant and Castle as part of a £1.5bn regeneration scheme. About 1,000 people have been moved.
But three leaseholders fought the council's initial purchase orders.
Eric Pickles, Secretary of State for Communities and Local Government, has now upheld the decision.
Leaseholder and objector Mojisola Ojeikere said: "We are being short-changed and priced out of the area.
"I am being offered just £150,000 for my two-bed flat, when the new-build two-bed Heygate flats are currently being marketed overseas for upwards of £455,000.
"How am I supposed to buy one of these with the miserable compensation they are offering me?"
Fellow objector Adrian Glasspool said: "We have simply exercised our right to say no.
"This is a privilege that tenants on the estate didn't have, as they were simply subjected to eviction proceedings.
"An entire community has been forcibly displaced for the sake of mere land value speculation."
Councillor Fiona Colley, cabinet member for regeneration, said: "The need to secure vacant possession of the estate to allow for much-awaited development means that compulsory purchase of the remaining homes is the only way to ensure this happens in a reasonable timescale.
"We will continue to have regular communication with the remaining residents."
'Half-truths and lies'
The council will now write to the objectors and inform them of the decision. After two months, ownership of the homes will transfer to Southwark Council.
The council will then serve a further notice and occupants will have 28 days to vacate the property. If they do not do so, the council is entitled to take steps to gain possession.
Independent valuations of leaseholders' homes and related offers have already been made.
During the hearing, the Heygate's architect Tim Tinker said: "The Heygate and its design has been stigmatised and I thought it was time to set the record straight.
"Its notorious reputation is a farrago of half-truths and lies put together by people who should have known better."