Grass fires in London increase five-fold on 2012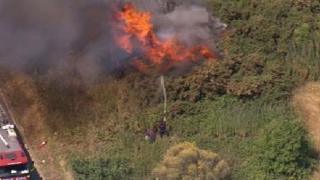 The number of grass fires London Fire Brigade (LFB) has tackled this month is five times more than in 2012.
LFB said it attended 87 grass fires between 1 and 18 July 2012, but has dealt with 460 this year.
Thursday saw it tackle 37 blazes, the highest daily total since 2006, with one destroying an area the size of four football pitches at Mitcham Common.
So far 1,684 fires have been tackled in 2013, but LFB expects the figure to rise as the hot weather continues.
Dave Brown from LFB said: "Grass fires can cause a great deal of damage to open spaces and wildlife, and can be avoided by making sure that cigarettes and barbecues are extinguished properly, and that glass bottles are disposed of carefully."
LFB said some fires were started deliberately while others were through careless behaviour including leaving glass bottles which can concentrate the sun's rays on to parched grass causing fires to ignite.
In 2006, there were more than 2,000 grass fires in London in July alone.