Malia stabbing: Tyrell Matthews-Burton killed on birthday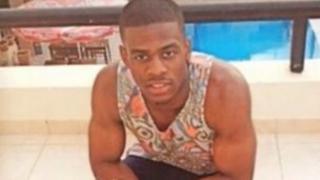 A 19-year-old man who was stabbed to death in a bar brawl in Crete was killed on his birthday, it has emerged.
Tyrell Matthews-Burton from Leyton was attacked outside a bar in the holiday resort of Malia during the fight involving up to 30 British tourists.
Witnesses told Greek police a violent altercation took place in the early hours of Tuesday morning.
A 19-year-old was arrested on suspicion of Mr Matthews-Burton's murder, and 17 other British nationals were arrested.
Football row
His friend Luke Cato, 25, told BBC London: "He's a young lad that didn't need to die like that, it's shocking.
"He was just a good kid that loved his mum and went to work, come home, go to gym - just a normal kid."
He said Mr Matthews-Burton told him he was looking forward to his holiday which was his first one away with his friends.
"You turn on the news and you see the kid has died and you think 'boy he must have done something to deserve it' but this kid Tyrell he don't do nothing at all.
"He don't sell drugs, he don't beat up people, he don't rob people. He just goes to work, he takes care of his mum because him and his mum and sister - that's all they got, that's their family."
Mr Cato said he understood that the brawl started over a football disagreement which then escalated and ended with his friend being killed.
'Real nice boy'
Moahmmad Tariq, owner of the gym Mr Matthews-Burton regularly used, said everybody was stunned and could not believe it had happened.
And neighbour Mavis Hart said: "Everybody is in shock down here as he was never, ever, ever, a bad boy. Never. He was always polite.
"I'm not saying that because he's dead, I'm saying that because he's a real nice boy."
BBC Radio 1Xtra DJ Tim Westwood, tweeted about Mr Matthews-Burton's death, calling him by what is thought to be his nickname, Sterling.
"Malia 2013 R.I.P. Sterling - deepest sympathies to the family and friends," he tweeted.
In recent years Malia has outgrown holiday resorts such as Ayia Napa and Laganas and is particularly popular among young British tourists.
The Foreign Office says about two million British tourists visit Greece every year.
About half the cases it becomes involved with concern young tourists in the resorts of Malia, Laganas, Kavos, Kardamena or Faliraki.