Neighbour Paul Meehan 'said he had seen Tia Sharp'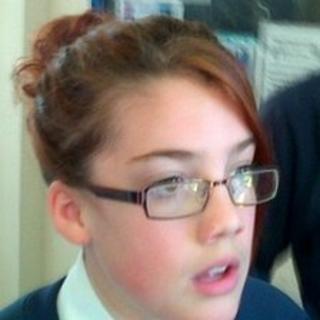 A neighbour of the grandmother of murdered schoolgirl Tia Sharp told police he had seen her when she was already dead, a court has heard.
Paul Meehan, 40, from Croydon, is on trial charged with wasting police time by making a "false report".
The bus driver denies the charge, at Croydon Magistrates' Court.
Mr Meehan was the neighbour of Christine Sharp, whose boyfriend Stuart Hazell was jailed in May for a minimum of 38 years for killing Tia, 12.
A police officer told the court Mr Meehan's statement to police caused a 24-hour delay in Hazell being interviewed.
'False hope'
The court heard Mr Meehan initially told police he had not seen Tia on Friday 3 August last year.
But he later claimed he was "100% sure" he watched her walk past his home at about noon on that day.
Jocelyn Ledward, prosecuting, told the court: "He described her outfit and person in detail."
She said this was "thereby in fact confirming Stuart Hazell's account of her having walked out of the door at that time".
Mr Meehan's claim had the result of "compounding the family's false hope" she was still alive, Miss Ledward told the jury.
It also led detectives to conduct "labour intensive interviews", she added.
"These were a waste of valuable police resources at a crucial time."
But she said: "There is absolutely no suggestion Mr Meehan was in league with Stuart Hazell."
'Free will'
The court was read a statement given to police by Mr Meehan, in which he claimed he saw Tia walk towards a bus stop while he was in his front garden.
"From the time I saw Tia I didn't take my eyes off her," he told detectives.
Mr Meehan insisted "nobody has forced me" to make the police statement, saying: "I have made it under my own free will."
After his arrest, Mr Meehan told police: "I definitely saw her leave the house. Whether she came back I don't know."
Det Con Gavin Seeley told the trial this information delayed the police from re-interviewing Hazell by 24 hours.
"By Paul Meehan coming up with this story he didn't delay us finding Tia, but he certainly delayed our interviews around Stuart Hazell," he said.
Dr Ian Anderson, a psychologist giving evidence for the defence, told the court Mr Meehan's belief he saw Tia could be a case of confabulation, which is having a false memory.
But consultant forensic psychiatrist Dr Andrew Johns, called by the prosecution, said: "I conclude it is more likely than not that he knowingly gave false statements to the police."
Tia's mother, Natalie, sat in the public gallery of the court during the hearing.
Mr Meehan denies causing wasteful employment of the police by making a false report that he had information linked to an inquiry on 6 August.
District Judge Karen Hammond adjourned the trial until next Monday.