Bumpy ride for New Bus for London route roll-out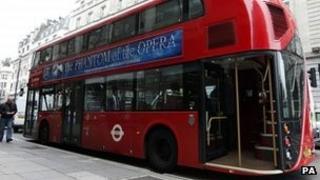 It has been a bumpy introduction for the New Bus for London.
Since June, there have been issues with heating, a serious collision and one passenger badly injured falling off the back of the hop-on hop-off platform.
It's also gradually emerging how Transport for London (TFL) is going to roll out the Mayor of London's flagship New Bus for London onto further routes.
Previously, it was assumed the current staffing model; a driver and a conductor during the day would apply to all the new routes.
Remember the conductor does not collect tickets or check Oyster cards, but polices the open back.
However, I'm told the rear platform isn't going to be open at the weekend on the busy route 9.
Political opponents
The route is operated by London United and runs from Aldwych along the Strand and Hyde Park to Hammersmith.
It is partly a heritage route and passengers can hop-on and hop-off. It will be converted to New Buses by the end of the year.
This will no doubt be seized upon by the mayor's political opponents who will probably say there's no point spending millions on developing a bus with an open platform if it is closed at the weekend.
It also means the New Bus policy is changeable and you can expect similar shifts to staffing in the roll-out.
The open platform will not be in use a seven days a week on all routes. All of this will be news to commuters.
Perhaps it is practical, perhaps it is cheaper, but if you see a moving number 9 on the Strand at dusk on a Saturday night don't bolt after it expecting to hop-on.
Mike Weston, TfL's Director of Buses, said: "Every London bus route is different and as the New Bus For London is rolled out across the capital we will consider the best possible staffing arrangements on a route-by-route basis.
Flexible staffing
"The New Bus for London vehicles, already introduced on routes 24 and 11, operate with just a driver in the evening when passenger numbers are lower, as do the prototypes on the route 38 in common with the conventional double deck buses on this route.
"When the New Bus for London is operated with just a driver passengers can still use all three sets of doors which are opened automatically at bus stops. This enables us a degree of flexibility with staffing the buses at less busy times but retains the versatility of three entrances."
Mr Weston said passenger numbers were significantly lower on the route 9 at weekends with around 9,000 passengers travelling on a Sunday compared to around 16,000 on an average week day.