Downing Street sign bought by former PM's aide at auction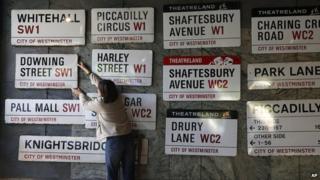 A Downing Street sign sold at auction for £31,500 has been bought by a former Prime Minister's aide.
David Soskin, the former special advisor to John Major in the policy unit, bought the sign, which had an auction estimate of £1,000.
Westminster City Council is selling signs from the borough to make way for new signposting in the capital.
A sealed auction bid for a further 300 signs, including black finger signs, finishes on Wednesday at 17:00 BST.
In the auction at Summers Place Auctions in West Sussex, an American bidder paid £4,500 for a finger sign pointing to the Cabinet War Rooms, Embankment, Westminster, Trafalgar Square and the Houses of Parliament.
A steel prototype of the new signs was also bought by the original designer, Tim Fendley, for £1,200.
'Part of London life'
Deputy leader of Westminster City Council, Robert Davis, said the authority was "very pleased with the amount raised so far from the auction of our historic street signs".
"Westminster's street signs are an integral part of London life and very popular with the millions of visitors that the city hosts every year."
The auction followed a similar event in May which saw signs of two of London's most famous addresses - Abbey Road and Downing Street - sell for a combined total of £16,350.
Auctioneer James Rylands said it was "a rare opportunity to pick up a real piece of London's history".