Clapham clubs face midnight alcohol sale ban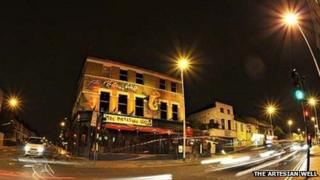 A ban on selling alcohol after midnight at venues in part of London is being considered following anti-social behaviour complaints by residents.
Lambeth Council's plan affects venues on part of Wandsworth Road in Clapham.
However, the directors of The Artesian Wells nightclub said it would force the business to close and they were being harassed by the council.
A consultation will run until 28 November and if approved the ban could be brought in by January.
The Early Morning Alcohol Restriction Order (EMRO) would prohibit the sale of alcohol between midnight and 06:00 affecting the Artesian Well, Lost Society bar and Mist on Rocks bar.
Any breaches could see the venues stripped of their licenses and prosecuted.
'Sledgehammer' approach
Councillor Jack Hopkin said: "Residents have been complaining about alcohol-related problems in this particular corner of the borough for years, including nuisance, anti-social behaviour and large amounts of noise.
"The businesses have taken guidance from the council and police but we remain concerned that this residential area just cannot cope."
He said the council had collected video evidence of people shouting, running in front of moving cars, throwing things, vomiting and collapsing in the street.
Rudy Weller, director of The Artesian Well said: "This is a sledgehammer to crack a nut. We've been here for 14 years, there's been next to no trouble.
"We're being picked on and harassed by a more powerful body than we can combat."
Mr Weller said the 390-capacity club opened two nights a week and complied with a previous agreement which saw them stop selling alcohol at 01:30 as opposed to 03:00.
"It would close us down and they know that," he said.