London pupils sign Olympic flags to give to Rio children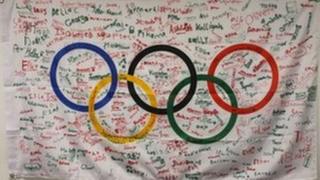 Hundreds of primary school pupils in south London have been signing Olympic flags ready for a handover to Rio.
Kevin Steward, who was a London 2012 torchbearer, has been collecting the signatures while travelling around schools in Southwark.
Manuela Antones, from the Brazilian embassy, will be at a ceremony on Monday along with Baroness Tanni Grey-Thompson to hand over the flags.
A pen-pal exchange is planned for the children to share their Olympic tales.
Rio de Janeiro is hosting the Olympics in 2016.
A number of Southwark pupils along with two child patients from Great Ormond Street Hospital will hand over the flags at the ceremony, which will also be attended by former British rower Sarah Wickless.
Mr Steward, who carried the torch on 23 July last year said he had visited around 20 schools to show pupils the Olympic torch and gather signatures.
"The reason behind this project is to show the children of Rio how much the children here enjoyed the Olympics and hopefully start a pen-pal exchange between the two countries, to keep the Olympic legacy going," he said.
"One of the pupils told me they wanted to send something to children in Rio which was related to the Olympics so this ceremony is all about the children, the final passing of the Olympic legacy."
The ceremony will be held at Canada Water Library Theatre, Surrey Quays Road.