Cyclists using East London cycle superhighway extension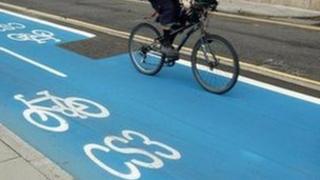 Cyclists have begun using the new extension of one of London's cycle superhighways in east London.
Barclays Cycle Superhighway 2, which runs from Bow to Aldgate, has been extended by about a mile (1.5km), into Stratford.
The route includes redesigned bus stops to allow cyclists to pass buses more safely.
The extension comes after the deaths of two cyclists on the superhighway network, in the last two years.
Transport for London said they will officially open the route next week.
Lanes 'confusing'
A section on Stratford High Street is completely segregated from traffic.
The scheme also extends the cycle lane from Bow roundabout and enables cyclists to wait ahead of other vehicles and then enter the roundabout first.
Its opening comes after the deaths of two cyclists on cycle superhighways in London, in the last two years.
Brian Dorling, 58, from Hounslow, west London, died in October 2011 at Bow roundabout in east London on one of the painted blue cycle lanes. French student Philippine De Gerin-Ricard, 20, was killed on the route in Aldgate in July.
Last week, a coroner said the Mayor of London should do more to prevent deaths on cycle superhighways. A report into the death of the two cyclists said the painted blue lanes were confusing and could lull riders into a false sense of security.
The cycle superhighways were one of Mr Johnson's flagship schemes when he became mayor in 2008. There are currently four in operation and 12 more are planned by 2015.