Competition for Royal Docks design ideas opens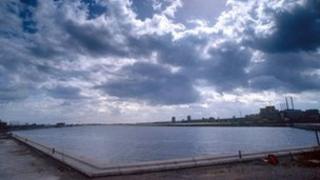 A new competition has been launched for design ideas to help transform the Royal Docks in east London.
The Royal Albert Dock, Royal Victoria Dock and King George V Dock are to be regenerated, with provision for new homes.
Entrants of The Royal Docks Ideas Competition are being asked to think of innovative ways to transform the 15-acre (six hectare) area.
The Mayor of London described the regeneration as "a huge opportunity".
'Endless possibilities'
Boris Johnson said: "My vision is to develop a world-class innovation and business district, creating local jobs, homes and economic growth.
"On the docks we're already taking great strides to achieve this. On the water, with some imagination and creativity, the possibilities are endless."
The competition is open to groups and individuals, including students and design professionals.
Entrants must use designs that are sensitive to the environment, but they are also asked to come up with innovative ideas that are not constrained by current planning laws.
The closing date for entries is 6 January 2014, the winner will be announced in March. The top 20 designs will also be showcased at an exhibition.
In May a £1bn deal to create a multi-million pound Chinese business park in the Royal Docks was confirmed.
Advanced Business Park, based in China, will turn a 35-acre site into the European headquarters for hundreds of Chinese firms.
The mayor is also seeking developers to help deliver plans for a floating village on the docks, which he hopes will help them become highly desirable addresses.