Canals and locks repair programme get under way in Camden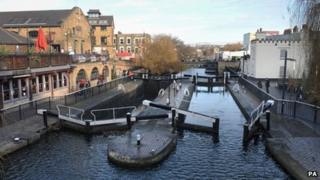 A £45m programme to repair and maintain 2,000 miles (3,220km) of canals and rivers in England and Wales has begun in north London.
The Canal and River Trust project begins with £130,000 of repairs at Camden Lock on the Regent's Canal.
Next weekend, visitors will have the chance to venture into the bottom of a drained lock chamber in Camden.
The site was chosen as it is the 200th anniversary of the start of construction of the Regent's Canal.
It will be the first of 13 waterway open days and weekends to give tourists a behind-the-scenes view of historic waterways.
The repairs programme is expected to take five months, with the trust working on about 100 locks around England and Wales, replacing dozens of lock gates.
About 33,000 boats use the waterways each year, while 10 million people walk the towpaths.
Canal and River Trust chief executive Richard Parry said: "Every day thousands of people visit or cruise on our waterways without ever seeing all the hard work that goes on behind the scenes, and below the waterline, to look after this historic and remarkable infrastructure.
"By showcasing this work to the public we can give them a glimpse of the craftsmanship of the waterways' original 18th Century design and the scale of the work we do to care for it."