Midwives 'left baby on stomach in cupboard', tribunal hears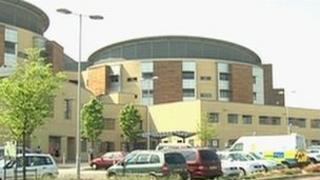 Two midwives put a four-day-old baby on its stomach in a stationery cupboard at a London hospital to allow its mother to sleep, a tribunal has heard.
Yvonne Musonda-Malata, 35, and Christine Onade, 46, are accused of failing to provide appropriate clinical care at Queen's Hospital, Romford.
The Nursing and Midwifery Council (NMC) heard that in April 2011, Ms Malata moved the child to the cupboard when it became unsettled.
Both midwives deny the allegation.
Ms Malata and Ms Onade, 46, also deny failing to record any feeds given to the baby.
The alleged incident on 18 April 2011 came to light after Alex Curtis, a nursery nurse, found the baby alone in the cupboard at about 06:30 BST.
'Risk of cot death'
Derek Zeitlin, who presented the case to the NMC, told the hearing that the child's mother had a condition which made it important for her to get a good night's sleep and the midwives were invited to take the baby away.
Mr Zeitlin said the child, referred to as Baby A, became unsettled and Ms Malata placed it in a cot in the doorway of the cupboard, keeping the door open.
He said: "There came a stage where Ms Malata was called away to another patient and was away for about 20 minutes.
"The next thing that happened was a member of the nursing staff went to the cupboard and was shocked to find Baby A inside."
Ms Curtis told the tribunal that she had gone "to the post-natal ward to get an envelope from the stationery cupboard and found a baby lying on its tummy on its own".
She said she had checked "if it was breathing".
"We always lie a baby on its back as there is a risk of cot death," she said.
The hearing also heard from another midwife, Rita Skeats, who said she had "recommended that the baby be cared for at the nursery, but Ms Malata and Ms Onade said they were coping OK and would keep the baby there".
The hearing continues.