Hayes robbery leaves mother without dead son's necklace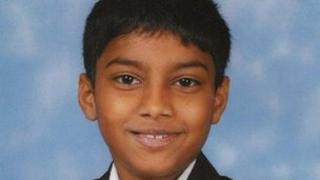 A mother has been left "filled with such sadness" after a necklace that belonged to her dead son was stolen in a robbery.
A security guard was carrying the jewellery when he was robbed leaving a bank in west London, last Friday.
Amirthaluxmy Arunthavalingam had stored items in a safety deposit box at the Hayes bank for security reasons.
Her son Nivakar died in March 2008 when he was hit by a car on the way to school.
The guard was moving the items after the family had asked for the necklace to be delivered to a location ahead of a family celebration.
'Completely devastated'
Mrs Arunthavalingam said: "I gave the chain and pendant to my son when he was eight years old. When he tragically died in the accident I wanted to make sure that I kept these forever to remember him by.
"This incident has filled us with such sadness and we would ask people to help us and get these back to us."
Det Sgt Hywel Davies said: "We believe that the suspect targeted the custodian unaware that there was jewellery and written mementoes rather than money in the box.
"This robbery has left the family completely devastated and I would urge the person who stole the items to hand themselves in now before we find them. "
He also asked pawn brokers to contact police if they have been offered "a significant amount" of Asian jewellery.
The robbery suspect is described as black man in his mid-20s who is around 5ft 8in and was wearing a black woolly hat.