Duggan inquest: Expert did not consider whether gun was planted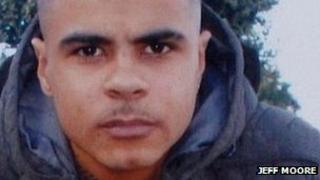 A forensics expert was not asked to consider the possibility that police planted a gun after the shooting of Mark Duggan, an inquest has heard.
Dr Philip Seaman, a ballistics expert, said he had looked at how Mr Duggan might have thrown a gun he was allegedly holding.
The inquest has heard it was "very unlikely" Mr Duggan would have been able to throw the gun 6.1m (20ft).
Firearms officers have said Mr Duggan was shot as they believed he was armed.
He was killed when the taxi in which he was travelling was stopped by armed police in Tottenham, north London, in August 2011, sparking riots across the city.
The disturbances were followed by more disturbances in other English towns and cities.
'Trace evidence'
Michael Mansfield QC, representing the Duggan family, said no witness had said they saw Mr Duggan throwing the gun.
He added that the weapon was found around 6.1m (20ft) from where the 29-year-old was shot, and it was unlikely that Mr Duggan would have been able to throw the gun that far after being shot in the arm and chest by police.
Members of the Duggan family's legal team extended a 4.9m (16ft) tape measure across the courtroom to show how far the gun was found from Mr Duggan.
Leslie Thomas QC, also representing the Duggan family, said it fell short of the distance that Mr Duggan was supposed to have thrown the gun after being shot.
When questioned, Dr Seaman, from Key Forensic Services, said he was unable to comment on the scenario that the police had planted a gun, as the Independent Police Complaints Commission had not asked him to consider this possibility.
He said that if he had been asked to consider the scenario he would have wanted to test the police officers' clothes for "trace evidence".
Dr Seaman agreed with Mr Mansfield that "significant" amounts of police gun residue were found on the front of Mark Duggan's jacket after he was shot, but not on the black sock in which the gun he was allegedly holding was wrapped.
The inquest continues.