Mayor of London announces £1bn to build homes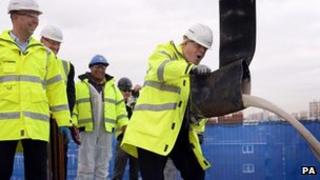 The mayor of London has announced funding of £1bn to support the building of affordable homes in the capital.
The money, from the government, is intended to help fund the building of 45,000 homes as part of the London Housing Strategy.
However, the report says 42,000 new homes will be needed every year to house the capital's growing population.
The London Assembly Labour group said the strategy "did little" to address housing problems.
New funding
The strategy aims to see 100,000 affordable homes built to rent or buy by 2015, but according to the document this will "still be insufficient".
The policies in the document include expanding the First Steps scheme, which helps residents find affordable properties. The housing strategy will aim to help 250,000 Londoners buy a home using the scheme in the next decade. The programme is currently on track to help 50,000.
The Greater London Authority (GLA) will also publish a discussion paper in 2014 with proposals for a London housing bank, which would aim to speed up building on large sites instead of leaving land lying vacant.
Boris Johnson is also calling for stamp duty to be devolved to London so the money can be invested in building homes. Currently stamp duty on property sales goes to central government.
Mr Johnson, who visited the Greenwich Square development on Monday, said previous governments had "failed to build enough homes".
"With London's unprecedented population growth, housing supply and affordability is now our biggest challenge and we need to double the number of homes being built," he said.
"We are overseeing the largest release of public land for a generation to ensure we maximize housing supply.
"We'll have delivered 100,000 new low cost homes, but we won't stop there."
Green Party London Assembly member Darren Johnson said the strategy would benefit investors more than those who need affordable housing.
"The mayor is building homes for investors and leaving crumbs for Londoners," he said.
"Only wealthy landlords can afford most of the new homes built in London, leaving people renting on insecure tenancies, losing hope of saving a deposit or getting to the top of the council waiting list."
'Lack of ambition'
Labour London Assembly member Tom Copley said: "We believe the mayor is underestimating the need for housing in London.
"He says we need 42,000 new homes a year, but independent experts believe we need at least 60,000 a year."
He added that the mayor's "lack of ambition" would undermine the competitiveness of London.
The Homes For London plan will be open for public consultation until February 2014.