London 2012: First residents move into Olympic homes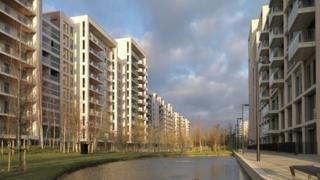 The first residents have moved in to new homes in the former athletes village used during the 2012 London Olympic and Paralympic Games.
By the end of the week, 50 of the 2,818 flats and townhouses which have been converted will be occupied.
The remaining homes will be renovated and occupied over the next few months.
Shardae Carr said it felt "really good" to be one of the first residents to move into the properties which housed 23,000 athletes during the games.
"When we moved in everything was brand new and it was so quiet," she said.
"I went to the stadium and I saw the athletics and that was an amazing feeling and to know that I'm on the other part of the park and part of the legacy, that just adds that special thing to it."
Legacy 'coming to life'
The properties in what is now called East Village range from one bedroom flats to four bedroom townhouses.
During the year since the Paralympic Games ended, Lend Lease has been working with contractors to remove temporary games-time features and carry out repairs necessary as a result of intensive use by the athletes and officials.
New kitchens have been installed in the space used to fit in extra beds during the Games, with temporary partitions being removed to create bigger rooms.
Sir John Armitt, chairman of the Olympic Delivery Authority said: "This is the London 2012 legacy really coming to life, with each week extra families, couples and individuals getting the keys to their new homes.
"We were determined they should get the same high standards as athletes and spectators enjoyed during London 2012. That's taken time but we are confident the people of East Village will love their new homes."