London cyclists: Poll finds 80% more concerned about safety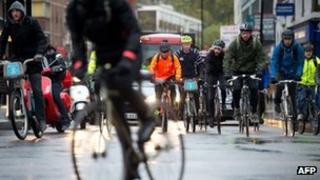 More than 80% of respondents to a cycle survey have said their concern for their safety on London's roads has increased over the last six months.
Analysis of the initial 5,805 responses to the survey by the London Assembly Transport Committee has found that improving dangerous road junctions should be a priority.
The poll comes after six cyclists were killed in two weeks on London roads.
Transport for London (Tfl) said cycling was not getting more dangerous.
The transport authority said it was spending £1bn on road improvements.
TfL's statistics show that from 2008 to 2012, there were 68 cyclist deaths, while in the preceding five-year period from 2003 to 2007 the figure was 82.
The number of cyclists in the capital has almost trebled in the past decade.
'All-consuming focus'
Of the respondents so far, 91% cycle in London, of which 60% cycle every day.
Some 22% said they had decreased the number of trips made by bike. Of those, 91% said it was due to concerns about safety.
They said as well as wanting junctions improved, they also want the threat posed by heavy good vehicles looked at.
Nine of this year's 14 cyclist fatalities involved HGVs.
Val Shawcross, the Labour chair of the committee, said: "Cycling in London has made great strides over the last decade but the recent rise in the number of cyclists killed or seriously injured on our roads risks reversing that progress."
The survey closes on 10 December.
Earlier this week, a Com Res poll for BBC London found that one in five cyclists in London say they have stopped cycling to work following the recent deaths.
In responding to that poll, the mayor's cycling commissioner, Andrew Gilligan, said the media's "all-consuming focus" on recent cycle deaths had "contributed to the fear that cyclists and potential cyclists feel".