Boxing Day Tube strike averted after pay deal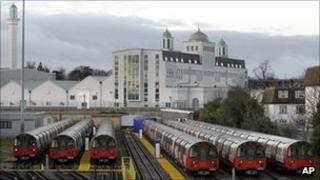 A pay deal has been announced which means for the first time in four years there will not be a Boxing Day strike by Tube drivers.
Drivers have been offered a bonus of £350 for working the Bank Holiday.
London Underground (LU) said the deal was self-financing because of changes to drivers' work and conditions.
Staff had taken industrial action on each of the previous three Boxing Days but Aslef said 800 drivers would work this year.
Phil Hufton, LU's chief operating officer, said: "In exchange for changes that would give greater flexibility in the longer term, we have agreed to make an additional payment on the proviso that it would be a completely self-financing deal.
"This cost-neutral deal will be made possible by productivity savings from various parts of the trains operations."
'Bung'
Aslef spokesman Finn Brennan said the payment, which was agreed in August but only just announced, guarantees that a strike will not take place.
"It's only fair people who are expected to spend time away from their families at Christmas should be rewarded for it," he said, adding that the amount LU bosses are paid should be looked at.
But Conservative London Assembly member Richard Tracey said: "TfL should not be in a position where they feel they have no choice but to pay a bung of £280k of fare payer and taxpayer money in order to stop union bosses holding London to ransom on one of the busiest shopping days of the year.
"Since when has a £46k starting salary and 43 days of holiday a year not been enough for Tube drivers?
"This proves that even when strike action does not go ahead, the threat is often used by union bosses to make Londoners suffer.
"The government needs to urgently ban tube strikes and replace them with an independent mediation process which protects workers' rights."
Prime Minister David Cameron has said he would not "rule out" banning strikes on the Underground.