Mark Duggan inquest jury retires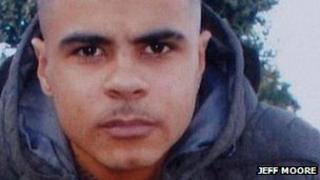 The jury at the inquest into the death of Mark Duggan, shot by police, has retired to consider its ruling.
The 29-year-old was killed in August 2011 in Tottenham, north London, after police stopped a taxi he was in.
Judge Keith Cutler said jurors could decide he was either shot lawfully or unlawfully, or return an open verdict.
Judge Cutler told them they must be sure, "beyond all reasonable doubt", Mr Duggan was unarmed, to return an unlawful killing conclusion.
Mr Duggan's death sparked the first riots in Tottenham, which later spread to other parts of London and England.
'Lethal force'
The jury was told to consider several questions, including whether Mr Duggan had a gun, whether a gun was in his hand when he was shot and how a gun came to end up in a grassy area near where he was shot.
Judge Cutler also told jurors to examine whether the Metropolitan Police and the Serious Organised Crime Agency did "the best they reasonably could have done" to react to the intelligence that Mr Duggan had a gun.
The jury also need to consider if Mr Duggan was stopped by police in a location in which they could have "minimised recourse to lethal force".
During the inquest, the jury heard from a witness who filmed the aftermath of the shooting in Ferry Lane.
Witness B said the father-of-four was surrendering when he was shot by police and Mr Duggan was holding a phone rather than a gun, contrary to what the police officer who opened fire told the court.
The officer, identified only as V53, told the jury Mr Duggan held the gun at hip level and "crossed a line in the sand".