Tube medic team cut after 'less conclusive' pilot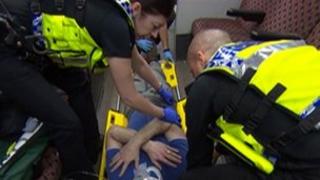 A team of medics used on the London Underground to help speed up the response when passengers fall ill, is to be cut by more than a half.
The Police Medic Response Unit using 20 medic-trained British Transport Police (BTP) officers was set up and funded as a pilot, said force chief superintendent Paul Brogden.
He said its purpose had mainly been to reduce disruption during the Olympics.
Eight officers will be retained on their current duties.
The other 12 will return to regular policing duties on the transport network, said Richard Jones, in charge of network operations at London Underground.
He said that the results of the pilot scheme had been "less conclusive in terms of speeding up response to customers in need".
By contrast, he said using emergency response unit vehicles with BTP drivers under "blue-light conditions" had reduced response times by half.