Nigella Lawson 'will not face investigation' over drug claims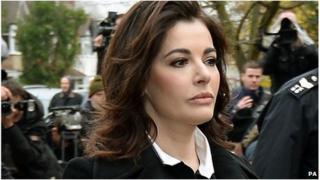 TV cook Nigella Lawson will not face an investigation over claims she took cocaine, police have said.
Scotland Yard said it would not look into the allegations at this stage but would review the decision if new evidence came to light.
Giving evidence at the trial of two former personal assistants, Ms Lawson said she had previously taken the drug.
Sisters Francesca and Elisabetta Grillo were cleared of defrauding Ms Lawson and her former husband Charles Saatchi.
A Metropolitan Police spokesman said: "Allegations that one of the (alleged) victims was involved in taking Class A drugs have been made during the course of this trial.
"At this stage the Metropolitan Police will not be investigating these allegations. Should any evidence, and that includes material from the trial, that could be investigated come to light this decision will be reviewed."
'Maliciously vilified'
At the trial, Ms Lawson said she took cocaine with former husband John Diamond when he found out he had terminal cancer and in July 2010 in the later years of her marriage to Mr Saatchi.
She told the jury: "I have never been a drug addict. I've never been a habitual user. There are two times in my life when I have used cocaine."
Ms Lawson, 53, said she took cocaine with Mr Diamond on six occasions.
"It gave him some escape," she said. "The idea that I am a drug addict or habitual user of cocaine is absolutely ridiculous."
Following the verdict, Ms Lawson described her experience as a witness as "deeply disturbing".
"I did my civic duty, only to be maliciously vilified without the right to respond," she said.
"I can only hope that my experience will highlight the need for a reform that will give witnesses some rights to rebut false claims made against them."
'Greater protection'
Human rights barrister Geoffrey Robertson QC, a friend of Ms Lawson, said the law should be changed to give witnesses more protection in criminal trials.
Mr Robertson said he believed Parliament should amend a section of the Criminal Justice Act that he said "allows a witness to be crucified in a sense by a savage cross-examination".
"Where they face accusations of very serious crime, they should be entitled to have their own counsel in court. They should be entitled to call evidence, that counsel should be entitled to cross-examine their accuser," he told BBC Radio 4's Today Programme.
The trial heard that Francesca and Elisabetta Grillo spent £685,000 on credit cards owned by Ms Lawson and Mr Saatchi.
They claimed Ms Lawson allowed their spending to cover up her cocaine use.
Businessman and art dealer Mr Saatchi, 70, has yet to comment about the case.