Southeastern trains cancel services after 'rota mistake'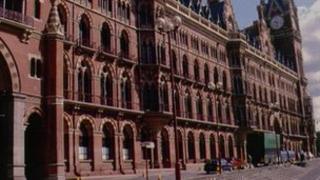 Southeastern trains have cancelled at least 17 services on the busiest shopping weekend of the year owing to a "rota mistake".
The high-speed services were cancelled after the company realised it did not have enough drivers for the trains.
A Southeastern train spokeswoman said more services were likely to be cancelled throughout the day.
We run about 1,000 services on a Sunday so the cancelled services represent around 2.5%.
"Due to a technical rostering error we have around ten drivers fewer than we need to run all planned services today," the spokeswoman told BBC News.
"Unfortunately, this means there will be some cancelled trains but our staff will be working hard to keep this to a minimum.
"The vast majority of people will be able to make their journey as normal."
Many high-speed services to London Bridge and St Pancras International station are affected.