Herne Hill burst water main: Rebuilding a community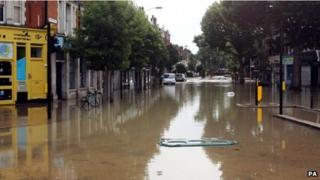 As shoppers peer into the windows of stores on Herne Hill, in south London, it is hard to believe that in August the road was immersed in water with rescuers using lifeboats to reach buildings. Five months on, how is the community coping?
More than 30 properties were flooded on 7 August after a water main burst near Herne Hill station at about 05:00 BST.
"When I got there the fire brigade would not let us through," said Vicky Williams, the owner of Just Williams Toys.
"I arrived at 09:15 and I didn't get into my shop until 15:00 that day. It was quite depressing. We lost three quarters of our stock."
Thames Water said the 3ft-wide (0.9m) burst pipe had been located at the junction of Half Moon Lane, which was close to Amanda Walbank's shop, Artemidorus.
"There was a flood here about nine years ago caused by thunderstorms," she said.
"I did not get flooded out - of all the shops - and I was hoping I had not been flooded, but the water main burst happened opposite my shop."
What followed was a long process of clearing away the mud left behind by the water, drying out, repairing and re-fitting the shops.
"It was just deserted and Half Moon Lane was closed so all you could see were the flood repair vans," said Giles Gibson, a Herne Hill resident and chair of the community group, the Herne Hill Forum.
Just Williams Toys was one of the first stores to reopen on Half Moon Lane on 21 October.
"Like most people our shop had to be gutted," said Ms Williams.
The water reached 2.6ft (0.8m) in the toy store, ruining items and costing the business more than £50,000, she said.
"We make most of our money in the last month of the year, if I wasn't open for Christmas it would have affected my whole year," explained Ms Williams.
"We have three branches, so we could use some of the revenue for the other shops to get the Herne Hill shop up and running."
Community support
Fourway Pharmacy, on Half Moon Lane, is currently in the process of having the rear of the shop refitted, while it serves customers at the front.
The owner Roger Humbles admitted that getting the pharmacy back up and running had taken a toll.
"It's obviously not great for morale," he said. "I personally haven't been paid since July."
But he said the community had pulled together.
"The majority of our customers have come back to us and they have been fantastic," said the pharmacist.
One of the shops which remains closed is Artemidorus, which specialises in British-made designs from paintings and toys to cards and textiles.
The shop, which has been in the area for 23 years, has held a pop-up exhibition but the owner, Ms Walbank, hopes to fully reopen next year, after numerous delays with insurance companies.
"I had to chase constantly and it's been very exhausting to deal with it all," she said.
'Come back'
Thames Water said their main priority was to get people's lives back to normal and provide support to their customers after the water main burst.
A spokesperson said: "What happened was horrendous for some of our customers and again we apologise."
And despite the difficulties, many believe the burst water main has strengthened local ties as shown by a recent Christmas fair.
In a nod to the flooding, the highlight of the event was Neptune's grotto, which replaced Santa's usual home.
"It has brought the traders closer together and made them realise that they depend on each other for business," said Mr Gibson.
For Ms Walbank, the important thing now is to focus on the future and bring customers back to the area.
"People have been missing their local shops," she said. "But if something is closed for months people go away and it takes a long time for them to [return].
"I would encourage people to come back."