Subletting Peabody tenants in London return keys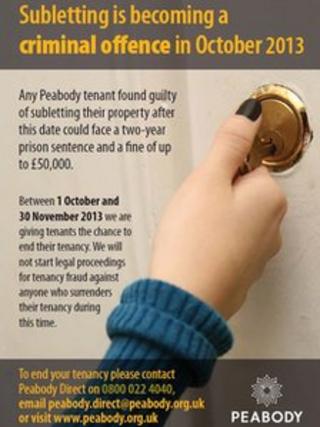 More than 40 housing association tenants who had been subletting their London properties have returned their keys as part of an amnesty.
Peabody gave its 55,000 tenants two months from October to voluntarily return the keys or face legal action.
A spokesman said the keys to 45 properties had been returned and then re-let to those on the waiting list.
Legislative changes mean subletting, or tenancy fraud, can carry a two-year prison sentence and a £50,000 fine.
The properties recovered were predominately in the boroughs of Lambeth, Westminster, Hammersmith and Fulham and Kensington and Chelsea.
No families were removed from the sub-let properties, the housing association added.
Joe Joseph, from Peabody, said "People who breach their tenancy agreements by illegally subletting can expect a knock at the door and to face legal action."