Fathers4Justice campaigner 'sprayed help' on Queen portrait, court hears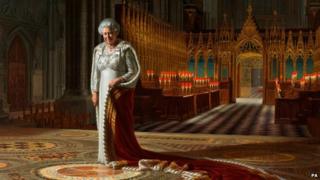 A Fathers4Justice campaigner who attacked a portrait of the Queen in Westminster Abbey appeared to spray the word "help", a court has heard.
Tim Haries, of Bellis Avenue, Doncaster is alleged to have smuggled a can of purple paint into the abbey on 13 June.
The 42-year-old is charged with causing criminal damage of more than £5,000 to the Ralph Heimans painting, which is worth about £160,000.
He has denied the charge at Southwark Crown Court.
The court heard that Haries shouted "fathers for justice" as he sprayed the painting, titled The Coronation Theatre, which was on display behind a rope in the abbey's Chapter House as part of a wider exhibition.
Opening the case, prosecutor Allister Walker said: "Suddenly, a man who turned out to be the defendant jumped the rope and approached that painting with his arms raised."
He said steward Peter Crook, who was guarding the picture, realised Mr Haries was about to damage it and attempted to tackle the defendant to the ground.
'Nothing against the Queen'
Giving evidence, Mr Crook told the court: "They started shouting 'fathers for justice' and then I heard the hissing sound, which was obviously a spray paint.
"By then I'd got to him and I was pulling him back. We then fell over the barrier and landed on the floor.
"He then said 'I'm sorry mate, I've got nothing against the Queen'."
Mr Crook said the paint marked the portrait on the face and shoulder.
He added that Mr Haries had not resisted as a member of the public called for help and they waited for security and police.
Mr Walker said Mr Haries was asked by police if he thought he had made his point, to which he had replied "absolutely" and that he was "guilty as charged".
The cost of repairing the portrait, which was unveiled for the Queen's Diamond Jubilee, was £7,300.
The trial continues.