Man arrested after car hits police officer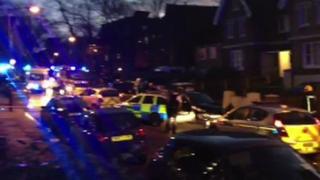 A man has been arrested on suspicion of attempted murder after a BMW car hit a police officer in south-east London.
Police in a marked car attempted to stop a vehicle in East Dulwich Road at 16:20 GMT. The vehicle failed to stop and became stuck in St Mary's Road.
As officers approached the car, it hit several vehicles and a police officer, who sustained a leg injury.
The officer, from Southwark, is being treated in hospital. Several other people were also injured, police said.